Rejected
Requested: 0.14 undefined
#121 POLKADOT HACKATHON EAST ASIA Edition - HackaDOT 2023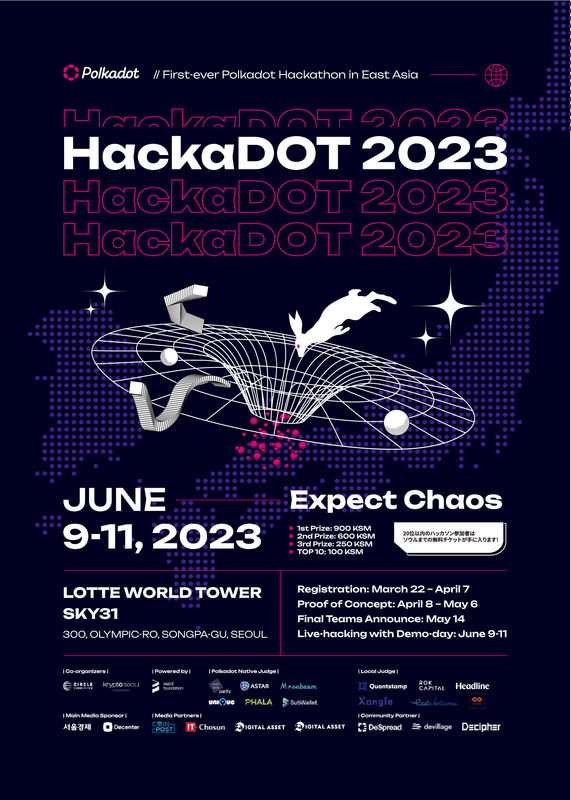 East Asia is a region with a large number of great blockchain engineers to find new ecosystems to apply their skills.
We propose the FIRST-EVER hackathon in East Asia to unite this potential and promote the Substrate technology and Polkadot ecosystem.
The layout of this hackathon will combine a few components we had during Sub0 2022, such as Starters & Builders Spaces, to host various workshops for developers.
The HackaDOT 2023, will be the official side event of Buidl Asia 2023 and be held both online(Phase#1) and offline(Phase#2).
In total 2.5 months of execution, from 22 March to 11 June 2023 (30 days of registration, 30 days for Pre-online hackathon, 3 days of live hackathon, and 4 days for judging period).
HackaDOT 2023 aims:
To promote Substrate as an open-source framework for developers in East Asia.

To navigate local developers into Polkadot Ecosystem.

To showcase how Polkadot live-ecosystem leaders are building the use cases using our technology.
*Please see the full proposal here | Posted for Onchain Discussion